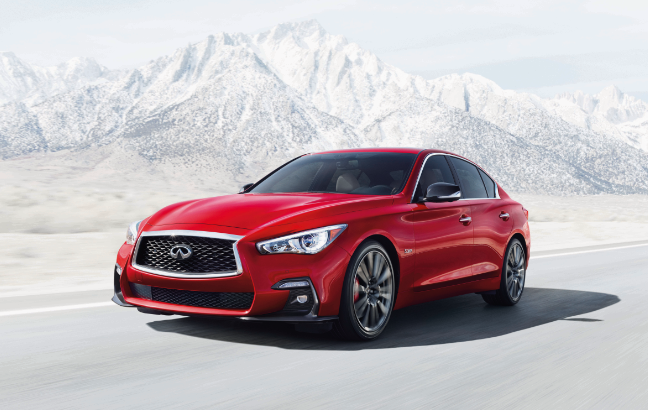 Bold in both its drive and design, the new INFINITI Q50 sedan is one model we're extremely proud to feature here at INFINITI of Ardmore. Whether you're an individual looking to reinvigorate your passion for the automobile, or are simply hunting for a model that features a ride and aesthetic that's more exclusive and striking than most on the roads, the INFINITI Q50 sedan is a model that you should surely consider.
Highlights of the INFITI Q50 Sedan
There's lots to love about the new INFINITI Q50 sedan! Blending an appropriate amount of horsepower with a striking design and an eye-catching interior, this elite model is sure to appeal to drivers in the Ardmore region looking to stand out a bit more than most.
Capable Engine: Tuned for thrilling response times and maximum output, the offered 3.0-liter V6 twin-turbo engine throws down a hefty 400 horsepower while further making an ample 26 mpg on the highway. The engine further generates 350 pound-feet of torque so you can be sure you'll be thrusted into the back of your seat!
Sculpted to Catch Eyes: The INFINITI Q50 features a vibrant exterior that's equipped with LED daytime running lights that are functional as well as eye-catching. The sedan also boasts a crescent window that slopes downwards to the rear emitting a sense of constant movement and speed. Available in a range of colors including a striking Dynamic Sunstone Red as well as a reserved Midnight Black.
Sporting Interior Built to Stun: With the INFINITI Q50, state-of-the-art technology will be at your fingertips. The model features a Forward Emergency Braking system to improve safety on the roads, while further showcasing a Direct Adaptive Steering system that has been designed to optimize your steering to the fullest degree.
Set up a test drive over the phone at (888) 518-5416 to take a spin in the trim model you feel most closely fits your specific price limitations and style.